How to grow your Facebook Page organically
If you're responsible for a Facebook Business Page, you'll probably have noticed a decline in how many people see your posts over the last few years. Now you are lucky if more than 10% of people who have Liked your Page even get to see your content. Facebook has moved more to a pay-to-play model. Now before you give up your Page in despair or spend a fortune boosting your posts, there is hope. You can still grow your Facebook Page organically and here's how to do that:
Grow your Facebook Page organically
I would love to tell you that the pearls of wisdom about growing your Facebook Page come from my own experience, but I have a confession. I am one of those people who has watched my Facebook Page's reach decline and my attitude to my Page has been a bit lacklustre in the last year. My inspiration has come from just listening to a talk by Holly Homer recorded at the Social Media Marketing World in April this year.
She has grown her Page, Quirky Momma from 13k Likes to close to 3 million in the last three years. She has done this through posting content, analysing what works using Facebook Insights and then doing more of what works and less of what doesn't work. And repeating this process over and over again.
Now, Holly has a completely crazy posting schedule and posts hourly 24/7 and I am not going to recommend that you post as often as she does, but there is a lot we can learn from what she does and what she has discovered along her journey:
#1 Every post is special
Treat every post as though it is an advertisement of what to expect from your Page. You also want to treat every post like it has the potential to go viral so spend time making sure it is quality content and optimise each post.
#2 Have an intentional plan for your Page
Plan a schedule of the content you want to share. Holly uses a lovely technique for organising her content. She uses Neapolitan Ice-cream as a model – I like her thinking. She divides her content into Strawberry, Vanilla and Chocolate.
Strawberry is content for you i.e. content to drive traffic to your website, to your products and to affiliate links where you earn money.
Vanilla is for the Page i.e. content to build engagement on your Page. For example, pictures, questions and quotes that encourage people to like, comment and share your posts
Chocolate is curated content i.e. sharing content that other people have generated.
She actually colour-coordinates her schedule in pink, white and brown.
#3 Optimise each post for the objective of the post
Different types of posts will get different responses from your Facebook community.
Link posts don't tend to get much engagement other than clicks (which is what you really want when you are after traffic) so make sure that:
You write an enticing description on Facebook by asking a question or referring to something within the article
The picture you use encourages people to click through. Holly doesn't always use the default blog picture and recommends customising a picture to tell part of the story.
Your headline of your blog is excellent
Your snippet for the blog post is good (This is the description that appears in the link. You add this using a plugin for SEO).
Photo posts tend to be good for engagement and shares, but not for clicks. Holly recommends:
That you think about whether people would want to share your picture
Your photos are square so that they are optimised for people viewing them from a mobile device – [very clever]
That you don't add any words or links when you post the picture. [This is interesting and worth testing out. I have heard that Facebook algorithm works against you if you add a link to a photo and that shorter text works best, but it is the first time I've heard the suggestion not to add any text to the description.]
Create custom images that people will want to save such as "how to" guides or step-by-step instructions.
Video posts  tend to great for shares which help Facebook Page organic growth and engagement, but not so great for traffic.
Post your videos directly onto Facebook rather than sharing a link from YouTube
Again, square works best – think mobile!
Short works well
Preferably, don't add a link in the description, but you can add one in the first comment.
Add text in your videos because not everyone will watch it with the sound on.
Live video posts tend to be brilliant for reach because everyone who has liked your page and using Facebook at the time will get a notification that you are live. The video will also be available on your Facebook Page afterwards. You will also get high engagement while you are live.
Facebook Live adds the human face behind your Page
Long is best [I have heard that 20 minutes is the optimum time because it takes a while for people to come on board]
Question and Answer sessions work well
Encourage interaction with people who are live by asking them to introduce themselves and write answer to questions
Assume people are not watching the whole thing from start to finish and so reintroduce yourself and the topic from time to time and let people know that the recording will be available if they need to go
Holly's top tip:If you have an administrator for the page, get them to change the description of the Live video and add links to the comments while you are live. Unless, of course, that you can multi-task and do it yourself.
#4 Respond to your Facebook Community
Make sure that you don't just schedule your posts and leave your Page on autopilot. If you want more engagement you need to be present to respond to comments. Some tips from Holly:
Make sure you have your messages switched on – it may help your reach for the Page.
If you get many of the same types of messages, it's worth preparing a good response to those questions or issues.
If you attract a larger audience expect that some of your posts will become controversial. You need to decide how you are going to deal with negative complaints.
#5 Use Facebook Insights
Holly's success for her Page has come from her consistently looking at her Facebook Insights and getting to know her audience really well. Facebook regularly makes changes to the algorithm that decides which people see your posts, so make sure that you consistently review your Insights. Find out which posts perform the best and do more of those. Also look at which post get negative responses such as the post being hidden from the stream or Page unlikes and do less of those.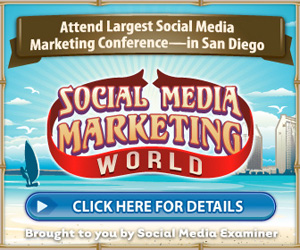 I didn't see Holly Homer live at Social Media Marketing World because there were so many other speakers on at the same time, but I was able to access the recording for the presentation. Social Media Marketing World 2016 is over, but Social Media Marketing World 2017 is coming around quickly. I would highly recommend you attend Social Media Marketing World if you are interested in developing your Social Media knowledge for business. If you can attend the conference live, I would highly recommend it because the experience of being there is phenomenal.

(Please note that the links to Social Media Marketing World are affiliate links. I do genuinely believe that it is worth attending.)